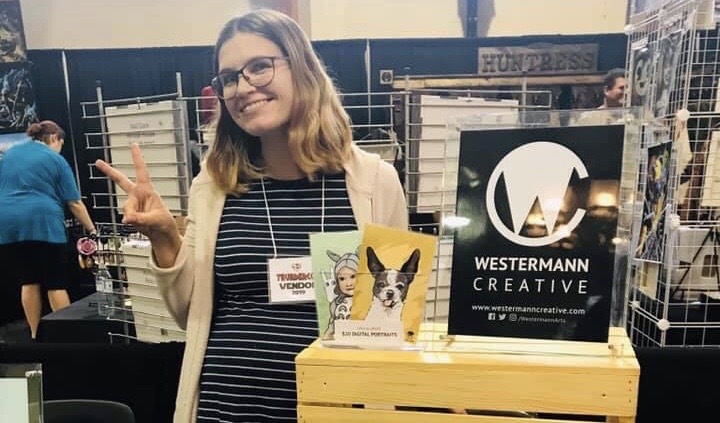 Looking back at my first art vendor experience, Thundercon 2019
It has been a year now since my first vendoring experience at a convention! My table was at Thundercon 2019. My husband Michael had convinced me to join a table with him and his friend Logan who recently started a podcast together called Us by The Giant. My husband has always been a huge supporter of my art! Logan, who also does 3D printing under the name Sword & Blaster 3D brought along his 3D printer, which attracted a lot of attention from passers-by.
I only managed to get together a handful of small art prints to bring along, which I placed on a board and propped up against a wooden box. Back then, I was rarely away from my 4-year old son when I wasn't working, so I spent a lot of time thinking about how much I missed him (for real, I practically ran home as soon as vendoring hours ended).
Convincing myself to actually go to this event was the hardest part as I've always been very introverted and being in any crowd makes me uneasy. I at first felt very out of place and was also uncomfortable and 20-something weeks pregnant at the time with my second son. The other vendors seemed so experienced and very well stocked, so I guess I also felt silly with my little art board. Of course I didn't need to feel that way, but at the time I did.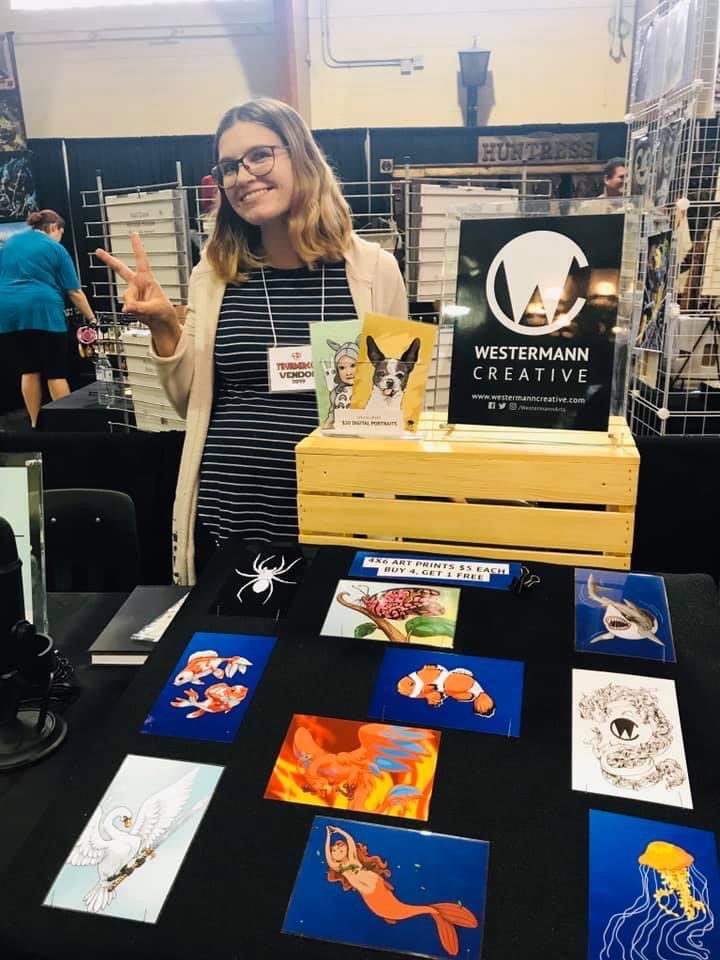 I ended up mingling with a few people who picked up free art pins and didn't end up selling much (yet still more than I expected to!). But it wasn't about the sales for me, I wanted to get myself out there, to share my art and to put myself into a situation that I knew would terrify me. For me it was about growth and the experience.
During the slower moments, I got out my sketchbook and drew some of the special guests; Kevin Porter, Richard Brake, Kirby Morrow and Steve Smijak. I think this was the funnest part and it helped me get back into my element. Drawing, like for many other creatives, is like a form of therapy, it helps relieve my anxiety and gives me something to focus on other than how crowded it was.
Looking back at this experience now, I feel it was the start to something. I realized while I was there, that it's ok to put yourself in these situations that make you feel uncomfortable, it's how we can grow. There were awkward moments, funny moments, inspiring moments. I felt so appreciative of those people who stopped by to say hello! Even if just for a moment in passing.
This was my first vendor experience and I told myself it wouldn't be the last.
Next time, I would be a little more prepared, a little more well stocked, and I will be a little braver and mingle more! Next time, I hope I WILL get a little more awkward, I want to get out of my element, because I know that's how I can grow.
I had planned to attend more conventions in 2020 after my second son was born, including a craft show and Thundercon 2020 which would have just been wrapped up now. Those plans have obviously changed, but it only means I have more time to prepare for the next time.
Until then, I'll just keep creating!